It's Friday, which means it's time to open the book nearest you and share the first line. Today I'm sharing from The House on Foster Hill by Jamie Jo Wright: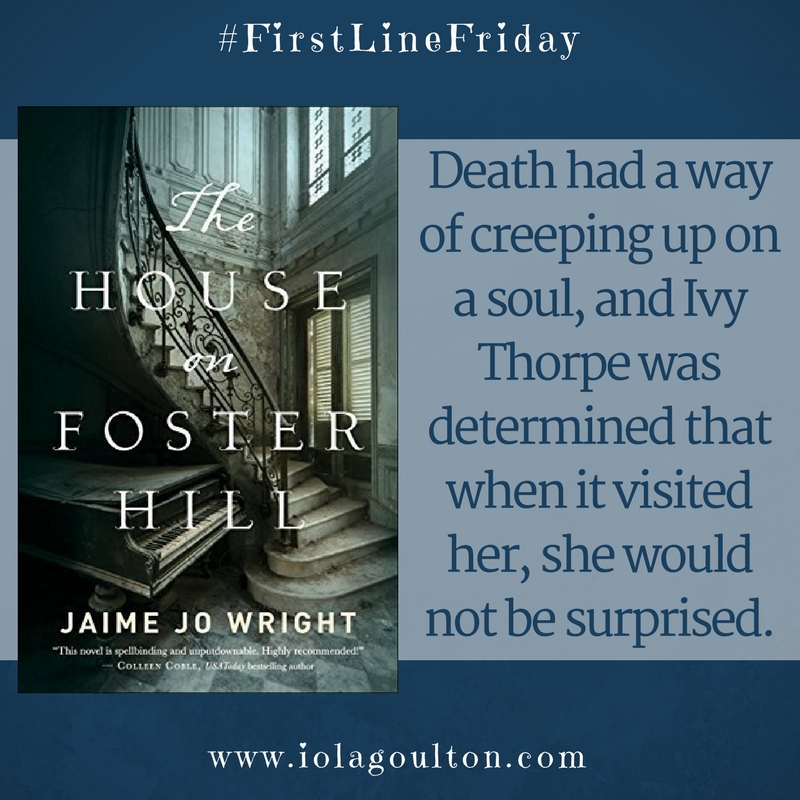 Is that creepy or what? I have to say I started reading this novel late at night, and that was a bad idea. I think it's more suited for reading on a bright sunny day … when there are no creeping shadows in the house. Just saying.
About The Book
Kaine Prescott is no stranger to death. When her husband died two years ago, her pleas for further investigation into his suspicious death fell on deaf ears. In desperate need of a fresh start, Kaine purchases an old house sight unseen in her grandfather's Wisconsin hometown. But one look at the eerie, abandoned house immediately leaves her questioning her rash decision. And when the house's dark history comes back with a vengeance, Kaine is forced to face the terrifying realization she has nowhere left to hide.
A century earlier, the house on Foster Hill holds nothing but painful memories for Ivy Thorpe. When an unidentified woman is found dead on the property, Ivy is compelled to discover her identity. Ivy's search leads her into dangerous waters and, even as she works together with a man from her past, can she unravel the mystery before any other lives–including her own–are lost?
Amazon US | Amazon AU | Amazon UK | Goodreads
Click the button to check out what my fabulous fellow FirstLineFriday bloggers are sharing today:
You can then click on the link which will take you to the master page, which holds all this week's #FirstLineFriday posts.
And you can click here to check out my previous FirstLineFriday posts.
Share your first line in the comments, and happy reading!