It's Friday! That means it's time to open the book nearest you and share the first line. Today I'm sharing from Enchanting Nicholette by Dawn Crandall: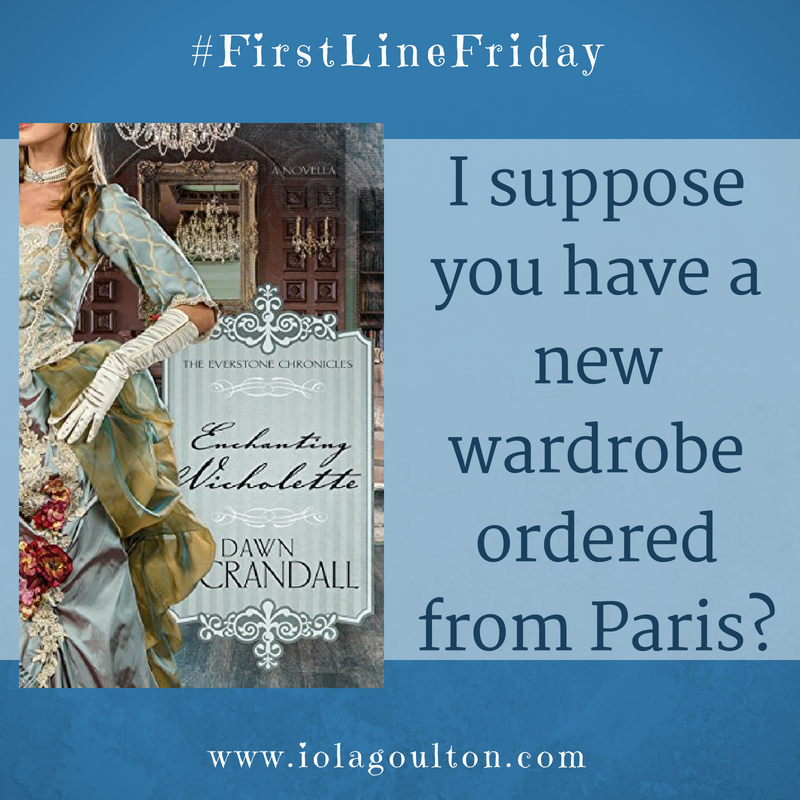 Enchanting Nicholette doesn't release until October, but it's also available as part of the Timeless Love Collection, which releases next week! The collection features seven stories, from Kari Trumbo, Andrea Boeshaar, Misty M Beller, Stephania H McGee, Pepper Basham, Sarah Monzon, and (of course!) Dawn Crandall.
Timeless Love is currently on sale for just 99 cents, which is a great deal—the preorder price for Enchanting Nicholette alone is $9.00!
All proceeds from the sale of the collection will be donated to the LiveStrong Foundation.
About Enchanting Nicholette:
In this captivating novella by Dawn Crandall, Nicholette Everstone is already a widow at the age of twenty-two: her husband was murdered on their wedding day. She has just returned to Boston after two years of mourning in Europe. Although her husband was loving, the marriage was an arranged one, and Nicholette would like to wed again–this time for love…and to someone safe.
You can find the Timeless Love Collection online at:
Click the button to check out what my fabulous fellow FirstLineFriday bloggers are sharing today:
You can then click the link which will take you to the master page of all this week's #FirstLineFriday posts.
And you can click here to check out my previous FirstLineFriday posts.
Share your first line in the comments, and happy reading!