It's First Line Friday! That means it's time to pick up the nearest book and quote the first line. Today I'm sharing from Know You More by Jan Thompson, the first book in her multicultural Savannah Secrets series. Here's the first line: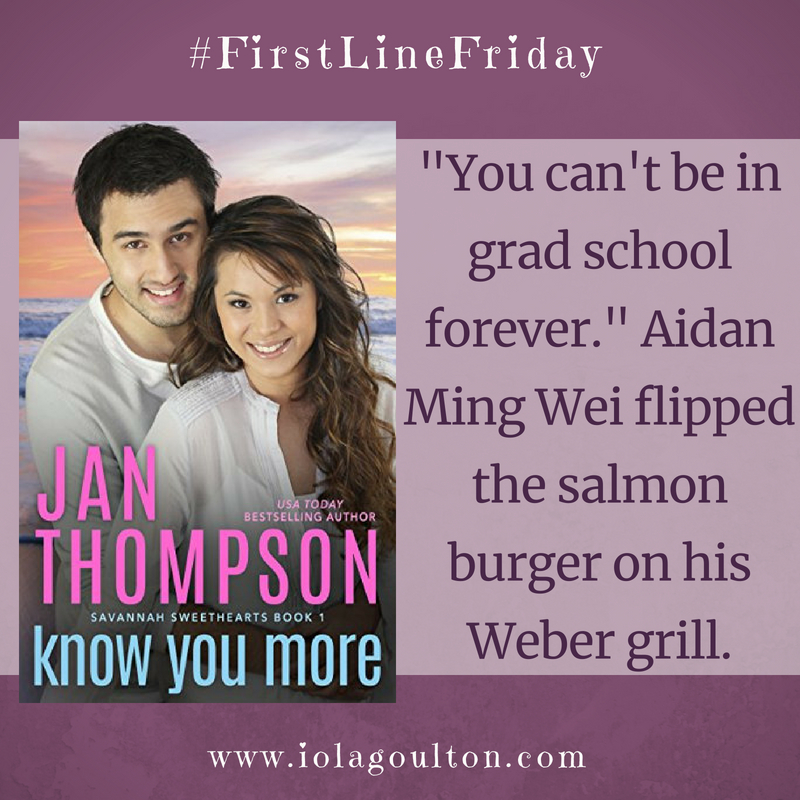 Do you want to read more? If so, you're in luck because Know You More is currently free on Kindle (until Sunday). Click here to download Know You More.
What's the book nearest you, and what's the first line?
About Know You More
He loves her… He loves her not…
She's waiting for him to decide.
A young pastor of a growing church in a thriving community, Diego Flores has to come to grips with God's will for his church and his personal life.
From USA Today bestselling author Jan Thompson come 10 clean and wholesome, sweet and inspirational contemporary Christian romances set on the beaches of Tybee Island and in the city of Savannah, Georgia, two of the most romantic coastal towns in the world.
Welcome to Savannah, Georgia, in the multicultural new south! Meet a group of multiracial and multiethnic churchgoing Christians who love the Lord, work hard in their careers, and seek God's will for their love lives. Against a backdrop of ocean, sand, and sun, these inspirational romances showcase aspects of the human need for God and for one another.
These sweet and wholesome Christian beach romances begin with KNOW YOU MORE, the story of Diego Flores and Heidi Wei living in the city of Savannah and on the sunny beaches of Tybee Island.
Diego's Disquiet…
Diego Flores has been interested in his best friend's younger sister since their college days, but his calling to grow Riverside Chapel takes up most of his time.
When Heidi Wei becomes his strongest supporter in his church-planting ministry, how does Diego show his feelings for her without giving her the wrong idea?
Does she see him as potential husband material or just the pastor of their church?
You can find Know You More online at:
Click the button to check out what my fabulous fellow FirstLineFriday bloggers are sharing today:
You can then click the link which will take you to the master page of all this week's #FirstLineFriday posts.
And you can click here to check out my previous FirstLineFriday posts.
Share your first line in the comments, and happy reading!