Meet two women in different eras but both with unfailing conviction in Mindy Starns Clark and Leslie Gould's new book, My Daughter's Legacy. Therese Jennings cannot abide the thought of owning slaves. But when trouble befalls her family, can she reconcile her obligations with her beliefs? Nicole Talbot's life is back on track after years of substance abuse. But when facts she uncovers cast doubt on her family's legacy, she must risk all that she's gained—her fresh start, her family's trust, and her growing relationship with a new man—to unlock the secrets of the past.
Celebrate the release of Mindy and Leslie's new book by entering to win the $75 Visa Cash Card Giveaway (details below) and by attending their author chat party on August 1!
One grand prize winner will receive:
One copy of My Daughter's Legacy
One $75 Visa Cash Card
Enter today by clicking the icon below. But hurry, the giveaway ends on August 1. The winner will be announced at the My Daughter's Legacy Facebook party. RSVP for a chance to connect with Mindy, Leslie, and other readers, as well as for a chance to win other prizes!
RSVP today and spread the word—tell your friends about the giveaway via social media and increase your chances of winning. Hope to see you on the 1st!
My Review
My Daughter's Legacy is a split timeline novel with elements of both romance and suspense. It starts in the present with Nicole Talbot, who has just finished her first year of college … after a long stint in rehab. She is now going home for the summer, staying with her sister, and working as an equine therapy intern at a nearby equestrian centre.
A secret, a body, and a missing manuscript.
Nicole has a secret—something her deceased grandfather said she could never tell anyone. She knows it's time to tell the truth, but she's also worried that no one will believe her, especially not Nana, the family matriarch. As an ex-drug addict, she has a well-earned reputation for lying.
When she gets home, Nicole finds she's not the only one with secrets. Her sister and aunt have been undertaking some family history research which may shed light on Nicole's secret … but unearths a whole new set of questions about the body they found as children, which subsequently disappeared.
We then switch to the Civil War era.
This is Therese's story (Nicole's great-great-great-great grandmother. Plus or minus a great). Therese lives in the South, but her father was a prominent abolitionist, and she shares his views. She takes a job as a governess in Richmond. She also undertakes volunteer work at the local hospital where her friend, Polly Talbot, volunteers. Here she meets Polly's handsome Northern cousin, Dr Alec Talbot, and also comes into contact with Polly's brother, Michael, her teenage crush.
Although My Daughter's Legacy is part of the Cousins of the Dove series, this is the first book I've read.
There were references to past events that read as though they'd been covered in more detail in previous books. I haven't read them (although now I want to!), and I don't think that was any loss, as I found it easy to pick up the story. There was also a nice summary at the end which rounded out the series.
A dual timeline story can be hard to read.
This is simply because there is one character or story I enjoy better than the other. I often find it hard to relate to the modern character. This is usually because the modern character has some issues that are self-inflicted, but there is no real acknowledgement that they are the author of their own problems: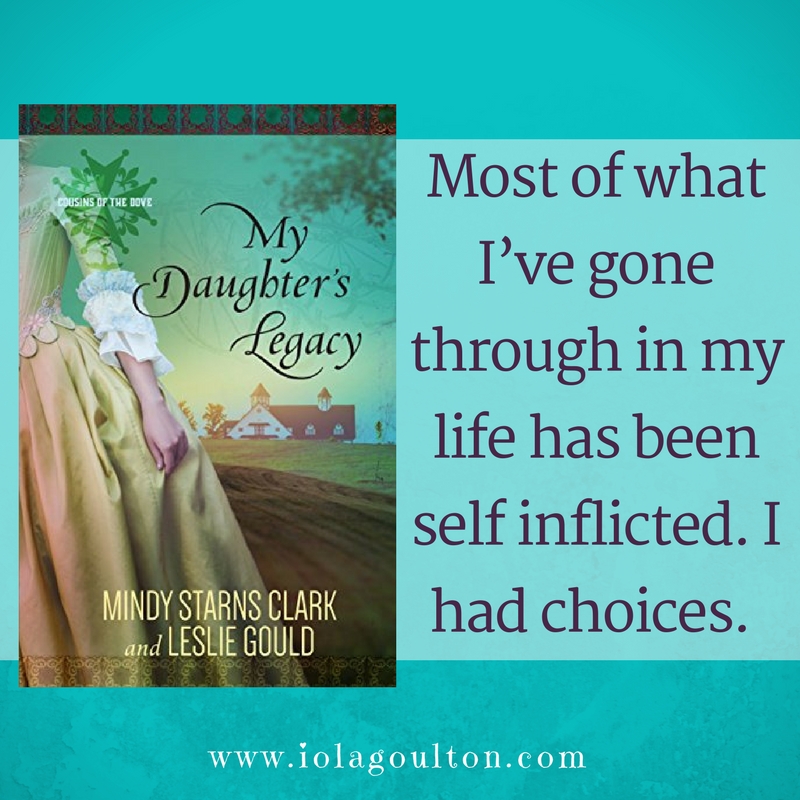 That was the thing I liked about Nicole. She knew she had problems. And she knew whose fault the problems were. Her own. And she was working hard to overcome those problems.
In contrast, many of Therese's problems—internal and external—were the result of the Civil War and not knowing who she could trust. These are common conflicts in Civil War-era fiction, and meant it took me a little longer to warm to her as a character. What kept me engaged were the fascinating insights into Civil War America. For example the concept that working in a hospital was men's work, and that hospitals were only for the destitute. Gentlemen were looked after at home.
But in the end, both stories delivered both in terms of suspense and in terms of romance.
Now I'm off to buy the first two books in the Cousins of the Dove series: My Brother's Crown, and My Sister's Prayer.
Thanks to Harvest House, Litfuse Publicity, and NetGalley for providing a free ebook for review.