It's Throwback Thursday! Today I'm resharing my review of Broken Like Glass by EJ McCay. This review was originally posted in May 2017.
There are not many novels that manage to grip me from the very first line, but this was one: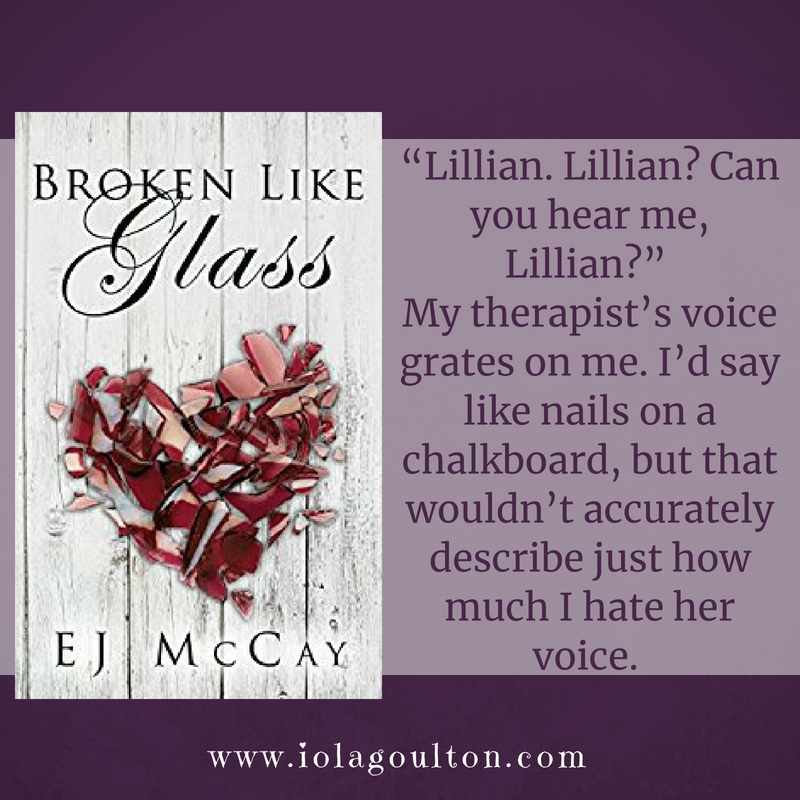 By the end of the first page, we know Lillian is in court-ordered therapy. By the end of the second page, we know why:
"Help me understand why you stabbed your dad with a knife in the middle of the grocery store, and then went home and smashed everything."
"Some people deserve a little knifing every once in a while and his furniture was a hundred years past vintage. I'd say I did him a favor."
So Lillian is stuck in her home town for six months until she can explain why … which isn't so easy. As the novel progresses, we see more and more glimpses of Lillian's broken past as she opens herself up to her teenage crush, to her therapist, and to Jesus—who she refers to as Papa. The title implies we're going to see a broken person, and we do, but we also strength and character.
Lillian is a strong main character.
Some people won't be able to related to the writing—first person present tense—but I thought it was the perfect choice. It gave us an insight into Lillian, and the present tense gave the story the necessary sense of immediacy.
Reading a first person story narrated by a character who has secrets and hides them from the reader can be frustrating. I always feel that if the character knows the truth about a matter, the reader should know that truth as well. And that's why I think first person worked so well in Broken Like Glass, because Lillian didn't know. Her secrets were so deep, she hid them from herself.
Broken Like Glass combined some of the freshest writing I've read in ages. The use of first person present tense was inspired. The plot was layered, complex, and never predictable (the couple of minor plot points I almost predicted were minor in comparison to the major twists I ever saw coming).
But the true triumph of Broken Like Glass is Lilly's relationship with Papa, something her therapist, Chrissy, sees as Lilly's strength:
"But this relationship you have. It's so … tangible. I want that."
"Then have it."
Chrissy looks at me funny. "But how? How did you do it?"
"I clung to the only thing I could. He's all I had. He's all I ever had … my only friend was Papa."
Lilly is the perfect embodiment of the Christian faith as a relationship with Jesus.
The scenes where Papa talks and Lilly listens remind me of God speaking in The Atonement Child by Francine Rivers. The themes and writing reminded me of Christa Allen and Varina Denman and Amy Matayo, and other newer writers in Christian fiction. But the most important thing is that Broken Like Glass makes me want to know Papa in the way Lilly does. And shouldn't that be the aim of Christian fiction?
Recommended.
Thanks to the author for providing a free ebook for review.
About EJ McCay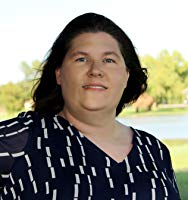 EJ McCay grew up in Charleston, South Carolina and currently resides in Lubbock, Texas. She lives with her husband, two girls, and four cats.
Writing wasn't always her dream. That came about when she was in her mid-twenties. Since then, it's become more than a passion, it's become part of what makes her tick. She writes in multiple genres from YA to Adult Romance.
When not writing, she's a nerd-herding lover of Chuck, and enjoyer of good coffee. Some of her favorite books include Ender's Game, The Percy Jackson Series, and the Alex Van Helsing trilogy–just to mention a few.
Find EJ McCay online at:
About Broken Like Glass
How is Papa supposed to set me free when I don't even know what I need to be freed from?
Lillian Louis James tried to live a good life but her father had a knack for bringing out the worst in her. When a quick weekend visit with him turned violent she found herself on the wrong end of the law. Stuck in the small town she would rather forget Lillian was forced to attend therapy and try to figure out where it all went wrong. Her high school crush showing up on the scene didn't help either as unresolved feelings bubbled to the surface. Will Lillian let Jesus heal her broken past before her chance at love is gone?
Find Broken Like Glass online at:
Read the introduction to Broken Like Glass below: