A Slow Start and a Fast Finish
Out of the Ordinary felt as though it took a long time to get going. It wasn't that nothing was happening—there was a lot happening. But it all took place in a very short period of time. It starts with Miss Gertrude Cadwalder attending a party on a yacht with her employer, Mrs Davenport. That evening takes almost half the novel, which may be why it felt as though it wasn't moving forward. Nor could it, as Gertrude spends rather too long trapped in a chair by her bustle.
And that situation is typical Jen Turano, in the best way.
Out of the Ordinary was full of Jen Turano's trademark witty writing, with plenty of nonsensical plot elements. We briefly met Gertrude and Mrs Davenport in an earlier novel, so we know she is a woman with aspirations to fashion. Aspirations and money she may have, but taste she does not. Gertrude is often the victim of Mrs Davenport's fashion crimes, such as the offending bustle in Out of the Ordinary.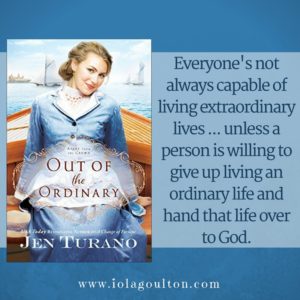 The second half was much better than the first, as it got moving (literally and figuratively), and we got to see more of Gertrude and Harrison, and find out more about the eccentric Mrs Davenport. The romance perhaps proceeded more quickly than I might prefer, but it worked because Gertrude and Harrison weren't strangers—they'd met in previous books in the Wildflowers series. And I enjoyed the strong Christian undertones.
Yes, Out of the Ordinary is part of a series. The earlier books are At Your Request (a free prequel novella) and Behind the Scenes. Although Out of the Ordinary can be read as a standalone novel, it would be better to read the earlier stories first. Otherwise the sheer number of characters (and personalities) introduced at the beginning of Out of the Ordinary might be overwhelming.
A must-read for all Jen Turano fans, and those who like some wit and intelligence in their Gilded Age romance.
Thanks to Bethany House Publishing and NetGalley for providing a free ebook for review.
About Jen Turano
A USA Today Best-Selling Author, Jen Turano has written the critically acclaimed Ladies of Distinction series, and A Class of Their Own series, published through Bethany House Publishers. Her novel, After a Fashion, was chosen as a top pick from Romantic Times, as JenTuranowell as being named a top ten romance of 2015 from Booklist. It is also a nominee for Romantic Times 2015 Reviewers' Choice Award. Her book, A Most Peculiar Circumstance, was chosen as a top ten romance by Booklist in 2013. Her seventh book, Playing the Part, released in the spring of 2016, and will be followed by a new four-book series, Apart from the Crowd. When she's not writing, Jen spends her time outside of Denver with her husband and neurotic Cattle Dog, enjoying herself as an empty-nester since her son recently abandoned her for the college life.
Find Jen Turano online at:
About Out of the Ordinary
Miss Gertrude Cadwalader hoped her position as the paid companion to Mrs. Davenport would be easy. But as she becomes acquainted with her employer, she realizes the wealthy Mrs. Davenport has a strange tendency to be a bit light-fingered with other people's trinkets. Gertrude is relieved when Mrs. Davenport decides to have a quiet summer away from the social scene–until the woman changes her mind in order to help a young socialite launch into society.
When Gertrude is caught in the act of trying to return one of the trinkets by Mrs. Sinclair, the mother of shipping magnate Harrison Sinclair, the woman jumps to an unfortunate conclusion. Harrison is determined to mend fences with Miss Cadwalader, but he's unprepared for the escapades a friendship with her will entail.
Find Out of the Ordinary online at:
Amazon | ChristianBook | Goodreads | Koorong
You can read the introduction to Out of the Ordinary below: