I'd like to introduce Jennifer Haynie, author of Loose Ends, which I reviewed a couple of weeks ago (click here to read my review).  Jennifer is visiting the blog today to share a little about herself, her reading habits, and her writing.
About You
First, please you tell us a little about yourself. Where are you from?
I grew up in North Carolina, right near Fort Bragg.  No, I'm not an Army brat.  I'm the daughter of a paediatrician, and my parents selected Fayetteville for its potential to grow.
How many books have you published?
I've published six indie books and one via a traditional publisher.  The publisher went out of business, so I'm seeking to rework the novel since it was my first novel ever published.
Which of your books is your personal favourite, and why?
Wow.  That's a great question.  If I had to choose, I'd probably say The Athena File.  I greatly enjoyed putting the characters of David and Abigail together.  Jonathan, too.  I also liked the issues they dealt with because right now, they're extremely relevant.
It's said that authors should write the kind of book they like to read. What is your favourite genre? Who are your favourite authors?
Suspense is my favorite genre.  Some of my fave authors are Irene Hannon, DiAnn Mills, Lee Child, and David Baldacci.
What was the last book you read? Would you recommend it? Why/why not?
I just read an Irene Hannon novel called Tangled Webs which is the last instalment of her Men of Valor series.  Very good.  All three of those books were good.
Sounds great!
About your book
What kind of books do you write?
I write suspense novels that have inspirational undertones.  The characters are complex and real, with wide varieties of backstories.  I wanted to ensure that on some level, readers could identify with them.
Tell us about Loose Ends. Who will enjoy it?
Anyone who enjoys suspense, both men and women would enjoy it.  Also, I know there are many readers out there who crave a deeper relationship with the characters in suspense novels.  I make sure to include lots of action going on, both on an emotional and action level.
There is a lot of action and suspense in Loose Ends. Dare I ask how much of this is based on personal knowledge and experience?
Nope.  😊  None.  My life is pretty boring compared to Alex's.
This is good to hear. Alex is kind of scary.
Loose Ends also features a variety of locations, some beautiful and exotic. How did you research these locations?
I like to look at pictures.  Also, sometimes, I'm lucky enough to have been close or to locales.  In Loose Ends, while I didn't go to the British Virgin Islands, I've been to the US Virgin Islands twice.  Close enough.
Loose Ends also features characters from a variety of racial, cultural, and geographic backgrounds, which is outside the norm for Christian fiction. What inspired you to write across these boundaries, and how did you research this?
I recently read a blog about the need for diversity in Christian fiction and in fiction in general.  I kind of fell into having diverse racial and cultural backgrounds.  For some reason, the Middle East (and Southwest Asia) have always intrigued me.  I've read lots of books related to the cultures, and I also work hard as I revise manuscripts to put myself into the character, in essence, getting all the way into their heads.
Many of your characters have unusual names. What do their names mean, and does that influence their character or actions in any way?
I liked Alex's name.  Of course, she's named after her mother, Roya Alexandra Thornton.  Alex strikes her personality.  She's a bold person, certainly not a timid girlie girl.
I think Jabir's name is probably one of my favorites.  In Loose Ends as well as Panama Deception, he's more laid back.  Jabir in Arabic means comforter, and as things unravel in Loose Ends, his role as comforter becomes apparent.
I love that!
Who is your favourite character and why? Do you have anything in common with him/her?
In Loose Ends, my favorite character is probably Alex, though I have to say that when I began weaving Tiny's story into the plot, he grew on me.  But in terms of Alex, she and I have some common interests (I'm not a girlie girl either).  She also struggles to overcome, and I admire women who push through adversity to triumph.
I think that's what I liked most about Alex as well!
Loose Ends has a lot more of a faith element than most Christian suspense novels I read. What made you choose to have such an overt faith element?
God gave me this gift of writing.  One of the reasons why He did so was so He could touch lives in an unusual way.  That's probably the big reason why I have faith elements in my novels.  Also, sometimes I get the impression that some people, both those who are believers and those who aren't, see Christians as boring.  Hah.  Far from it.  Christians truly living out their faith are dynamic people.
At the same time, Loose Ends also has more of a gritty feel than most other Christian suspense novels. It almost feels like a general market novel in that respect. Do you consider you're writing for Christians, or that you're writing novels with Christian characters?
I'm writing novels with Christian characters because I want those who aren't Christians to pick it up and read.  I know that most non-Christians would never venture into the CBA.  If they did, many would see the plots as too unrealistic due to the restrictions many traditional publishers place on their writers.  Life is gritty, and I want my work to reflect that but also see that it's possible to write a novel that's more a reflection of the sometimes harsh realities in which we live yet show how Christian characters can overcome in such settings.
I liked the fact Loose Ends was a lot more gritty than most CBA fiction. I understand the restrictions CBA authors have, but wish it wasn't so. It reinforces the insular Christian bubble.
What do you see as the main differences between fiction written for the Christian market compared with the general market?
I touched on it in the question above.  If a writer is writing in the CBA, traditional publishers often place restrictions on what characters can do, say, etc.  Think Love Inspired Romantic Suspense novels.  Sometimes, those restrictions can create unrealistic settings and scenes.
Love Inspired is probably one of the more conservative Christian lines, which is ironic considering they are part of Harlequin Mills & Boon, which have several imprints where the romance is a lot more hot and heavy. I guess they know their market and the expectations of their readers. But there are other readers who would like gritty faith-based novels.
What are you working on now? What other books are in the pipeline?
That's a great question.  I'm what I call "hot-drafting" the second book to the Athena Trilogy, which will be called No Options.  Once I let that sit for a bit, I'm turning my attention to my first traditionally published novel, Exiled Heart.  Since the publisher went out of business last year, I got my rights back, and that enables me to rework it to be more of my current writing style (It was my first ever published, hence I don't like my writing).  I hope to have that one out at the end of the year.
I've heard most published authors don't like their early books, so you're not alone in this.
You also told me you're getting a puppy. How cute! Does s/he have a name? Are there pictures?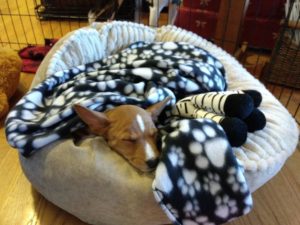 Yes, we got Clyde on the 18th of March.  Now we have Bonnie and Clyde, the Outlaws.  I'll be glad to attach pictures.  😊  Always.
What fabulous names! And cute puppy (just don't tell my cat I said that. She's the jealous type).
Thanks for visiting, Jennifer! Readers, what question would you like to ask Jennifer? Let us know in the comments.
About Jennifer Haynie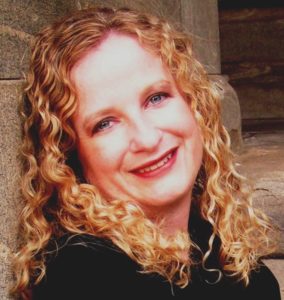 After being an avid reader of suspense fiction for most of her life, Jennifer Haynie began writing and publishing suspense novels in 2012.  She has now written over five indie suspense novels.  In her spare time, she works for the North Carolina Department of Environmental Quality, enjoys working out, and loves traveling.  She currently lives outside of Raleigh with her husband and their Basenji dogs.
You can find Jennifer Haynie online at:
Website | Facebook  | Pinterest | Twitter
About Loose Ends
Hot off her first mission as a Unit 28 contractor agent, Alex Thornton wants nothing more than to focus on building a life with Jabir al-Omri, her best friend and boyfriend of five months.
A secret chains Jabir, one with such dire consequences that seeking freedom from it will cost him dearly. He finds himself caught between honoring those he cares about and being completely truthful with Alex.
Hashim al-Hassan craves vengeance against the woman who deceived him ten years before. The target of his wrath? Alex.
When Alex and Jabir receive an assignment to find the murderers of a shipping executive, their investigation brings them to the attention of Hashim. He begins stalking her. The bodies pile up, and people disappear.
Now, with Alex squarely within Hashim's crosshairs, Jabir yearns to tell her what he knows. Yet the truth may destroy both her and those she loves the most.
Find Loose Ends online at:
You can read the introduction to Loose Ends below: