It's Writer Wednesday! Today I'd like to introduce you to author J'nell Ciesielski. J'nell has recently released her first book, Among the Poppies, set in England and France during World War One. I reviewed it on Monday, and definitely recommend it!
1. First, please tell us a little about yourself. Where are you from?
I'm originally from Florida which is known as The Sunshine State in America. I spent some years in Texas, then after college joined the Air Force where I was stationed in Germany for three years. Some of my fondest memories were made traveling Europe and meeting my husband. After our contracts were up, we decided to leave the military and come back to the States where we now call Virginia home.
2. It's said that authors should write the kind of book they like to read. What is your favorite genre?
Oh, that's easy 🙂 Historical fiction, particularly if it has a swoon-worthy romance. I love disappearing into bygone eras where honor was worth dying for, love worth living for, and culture worth preserving at all costs. The men seem larger than life, and the women were a force to be reckoned with despite their social constraints. Certainly we have a habit of viewing the past through rose-colored glasses, but history is unencumbered by the trappings of modern convenience where we've developed a habit of taking things for granted.
3. What was the last book you read? Would you recommend it? Why or why not?
Z: A Novel of Zelda Fitzgerald. It's a story of Scott F. Fitzgerald's wife and how she met the brilliant young writer and all their tumultuous years together. It's sad, thrilling, heartwarming, enraging, and utterly unforgettable. You hear so much about Scott, but never about Zelda which is a shame because she is absolutely fascinating.
This book gives such an insight of the cultural revolution that stormed the world after WWI when all the movers and shakers like Fitzgerald, Hemingway, Picasso, Stein, and Porter collided on the colorful streets of Paris to change history forever. Highly recommend!
4. Tell us about Among the Poppies. Who will enjoy it?
Among the Poppies is about a young woman eager to forge her own path as England surges into the Great War, but a duty bound army captain has her rethinking her objections to settling down. Anyone with a taste for adventure is in for quite a ride. Danger is around every corner while love blossoms in the most unlikely of places. Friendships are forged, loyalty tested, and duty to one's heart is laid on the line. These elements are grounded in rich historical detail as the war to end all wars explodes all around.
5. Where did the characters and story come from? What were your influences?
Like many people the world over, I got swept up in the whirlwind that was Downton Abbey. The elegance, the estates, the manners, and, of course, the clothes. Oh, to wear fancy hats again! Season two plunged the audience into WWI and there I saw it, Lady Sybil the nurse and her world-changing chauffeur love of a man, Branson.
I had to be a part of this world! Gwyn became a chauffeur's daughter longing for adventure beyond the garage doors, and William is an army captain who, above all, desires order. But Gwyn is anything but orderly 🙂
I'd agree with that! Gwyn is a great character.
6. Who is your favorite character and why? Do you have anything in common with him/her?
That's a toughie. I love Gwyn's spunk and wish I had more of it, but at the end of the day it's Roland who makes me smile. He's charming, witty, and has a zest for life that balances out William's seriousness. Even in the mud-bogged trenches that man finds something to laugh about, but just when you think he's gone too far, he pulls out a depth of resilient understanding that takes your breath away. I wouldn't say I have much in common with Roland, except our love for the finer things in life 🙂 I would be grateful to find my very own Roland friend.
7. Where do you get your character names from? I'm intrigued with this one because I have two William Crawfords in my family tree, and one was the right age to fight in WWI.
How fantastic to find William Crawfords in your tree! You'll have to let me know if you find out that he did fight in WWI.
Character names are one of the, if not THE, most fun part of the writing process. I have no hard and fast rules to choosing the all important moniker, but I aim for something regional and somewhat era appropriate. Gwynevere Ruthers was so named because her mother loved to read and settled on the queen of Camelot. But Gwyn, being who she is, decided that Gwynevere was too stuffy and prefers to be called Gwyn. For heroes, I like a good strong, classic name. What could be more classic and English than William Crawford? Remember back when I mentioned that little show Downton Abbey? Crawford is my nod to the Crawley clan 🙂
I'm sure the Crawfords are honoured!
Sometimes a name just presents itself in a Hello! This is me! kinda way. When that doesn't happen I peruse a list I've been making through the years. Some have been waiting a long time for an owner, but I know their day is coming. They just need the right character.
IMDB is also a great place to scroll through movie credits because they have thousands of unique names that I never would have thought to use.
8. A lot of research has gone into Among the Poppies. What the hardest part about researching a different time and a different culture?
Research is my absolute favorite part of writing. I love love love diving into all those details, most of which never make it into the story. History is fascinating. It makes us who we are, defines where we come from, and gives us passion to strive even further than we ever imagined possible. But it's always a challenge understanding an unfamiliar world. The manner of speaking, dressing, thinking, laws, and societal roles are sometimes a minefield to navigate with our modern sensibilities.
9. What research tips can you share?
Read everything you can about the time period. Fiction written during the era so you can understand the inner workings of what concerned people, and fiction set during the era so you can put those bygone inner workings into a modern voice.
Diaries and first-hand accounts like Testament of Youth by Vera Brittain and The Roses of No Man's Land by Lyn MacDonald were invaluable to me to learn precisely what these people were facing, their hopes and fears, and how the war transformed them. Old movies and of the era music are another touchstone for me. In fact, when Mary Crawley sang 'If You Were the Only Boy in the World' I knew I had to have that in my own story.
There is nothing like reading words written by the people affected.
10. What's the most interesting factoid you found that didn't make it into the book?
I never let a good factoid escape from my pages. There were a few that found themselves beneath my editor's red pen, but I fought to keep them because as irrelevant as they may seem, these little elements add that bit of sparkle that take a story from good to remarkable. Burned soldiers suffered such horrendous pain that only Pekinese dog hair was soft enough to be made into blankets for their raw skin. It wouldn't be the same, nor the truth, if I'd simply left it at a regular ol' blanket.
11. Do your novels have an overt faith element?
No, though there is a thread of faith. All of my novels are told from a Christian world point of view with plenty of moral obstacles the characters have to face and overcome. I want Christians and non-Christians to pick up my book to find complexities and truth without a sermon.
12. What made you choose to write for the Christian market?
I don't write for a Christian market, per se, but my stories are presented from a Christian's world point of view with set morals and beliefs. Do the characters ever twist these to the fallacies of the world? Absolutely! But at the center there is a core of unalterable truth that can only come from God Himself. That is a part of me and I can't imagine not being able to express it.
I think you've struck a great balance. As a Christian, I read Among the Poppies and clearly saw the Christian themes. But someone without faith could read it and not find the faith aspect overwhelming. It's a great story.
13. What do you see as the main differences between fiction written for the Christian market compared with the general market?
There is a hope we can cling to in Christian writing that isn't found in secular writing. Too often secular stories rely on sex, crude language, and titillating situations to convey emotions which I don't feel comfortable being a part of. I don't believe morals are something we can play fast and loose with despite what the world may try to convince us of.
14. What kind of support does your publisher give you? What are you expected to do yourself?
Lighthouse Publishing of the Carolinas is not a large publisher, but what they lack in size they more than make up in enthusiasm. LPC and my wonderful editor took a chance on a no-name newbie, offering invaluable advice to push me further in my writing abilities while not suffocating me. They've helped ease me into the industry instead of chunking me straight into the deep end.
Because they are a small publisher, much of the marketing falls to me. Setting up a launch team, creating Facebook parties, tweeting, blog posting, interviews, etc. I do though LPC does step in with promotional opportunities that I can't manage on my own. Such as submitting Among the Poppies to Publisher's Weekly and earning a review slot 🙂 Something I never could have done on my own.
Publisher's Weekly? How cool!
15. What is the hardest part of getting a book written, edited, and published?
Finish writing it! Ha. That's so easy to say, but sitting down day after day can be downright tough. Especially when the words don't come and all you want to do is bang your head against the keyboard because you're most likely the worst writer to ever live and no one will ever read the drivel you're attempting to write. It's not a task for the weak of heart. It requires a stubbornness that will carry you all the way through the valleys and straight up to the mountaintops.
The most important thing is not to give into discouragement. Push through those hard moments because at the end is a shining jewel that took years to polish.
16. What advice do you have for someone seeking to write and publish a novel?
Never give up! If this is truly a passion and you can't imagine doing anything else, read, read, read. Reading expands your use of language and imagination. Learn everything you can about the craft and industry, enter contests, join writer's groups, but most importantly, write. Write every day because that is how you become a writer instead of someone wishing they could write.
Thanks for visiting, J'nell! It's great to hear more about you, and about the story behind Among the Poppies!
About J'nell Ciesielski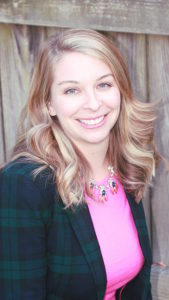 Believing she was born in the wrong era, J'nell Ciesielski spends her days writing heart-stopping heroes, brave heroines, and adventurous exploits in times gone by.
Winner of the Romance Through the Ages contest and Maggie Award, J'nell can often be found dreaming of a second home in Scotland, indulging in chocolate of any kind, or watching old black and white movies.
Born a Florida girl, she now calls Virginia home, along with her very understanding husband, young daughter, and one lazy beagle.
You can find J'nell Ciesielski online at:
Website | Facebook | Goodreads | Pinterest | Twitter
About Among the Poppies

Gwyn Ruthers longs for adventure far beyond the stifled life society restricts her to as a chauffeur's daughter. With the war to end all wars exploding across the Channel, Gwyn signs up to drive ambulances on the Front. Rambling over bomb blasted roads and living in mud bogged trenches is far from the exotic travels she had in mind. A simpler life doesn't look quite as bad as she once thought. Especially when a handsome captain has her rethinking her objections to settling down.
You can find Among the Poppies online at: