The Heart of an Agent is the sequel to A Changed Agent, which centred on the romance of Pinkerton agent Will Benton and schoolteacher Elsie Mitchell. Lily Handland was a minor character, Will's Pinkerton partner. Now Lily has left the Pinkertons and wants to settle down in Heartston. Start a fresh life.
But Lily needs a job, and she's not cut out to sew seams or serve in a boarding house restaurant. The banker suggests she consider investing in a local Great Camp, owned by widower Owen Murphy. The camp used to bustle with day visitors and vacationing guests, but it has fallen into ruin since the death of the perfect Rebecca Murphy.
The setting of one of the Great Camps of the Adirondacks was fascinating.
I've heard of the Adirondack chair (hasn't everyone?). I may even have read a previous book set in an upper class camp in upstate New York. But that was just the setting. In The Heart of an Agent, the Great Camp is almost a character as the repair and resurrection of the Great Camp reflects Owen's personal journey of healing and finding love again.
The one anticlimax was when Owen found out Lily's big secret. It felt to me like he overreacted—possibly because we'd known her big secret almost from page one (that she was an ex-Pinkerton agent, and worked under cover as a saloon girl). It might have seemed fitting if he'd thought she was a gently raised choir girl, but she'd already told him parts of her past.
No matter. The conflict was short-lived, and we were able to get back to the main event, the romance. The Heart of an Agent was a classic Golden Age romance that achieved the difficult task of bringing a widower out of his slump, and focusing almost more on the characters and setting than the romance. It was all the better for that slow build.
Recommended for fans of Christian historical romance with a Golden Age setting, from authors such as Jen Turano and Karen Witemeyer.
Thanks to NetGalley and Waterfall Press for providing a free ebook for review.
About Tracey J Lyons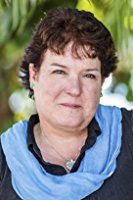 Tracey J. Lyons is the author of many historical romance novels, including The Women of Surprise series and The Adirondack Pinkertons series. An Amazon Top Ten bestselling historical romance author, she is a member of Romance Writers of America, American Christian Fiction Writers, and Novelists, Inc. Her books have been translated into several languages, and she has appeared on the award-winning Cox cable television show Page One. Tracey lives with her family in Orange County, New York. When not busy writing, she enjoys making her husband crazy with renovation projects at their 1860s home.
You can find Tracey online at:
Website | Facebook | Pinterest
About The Heart of an Agent
Former Pinkerton spy Lily Handland has always dreamed of a quiet, safe life, free from chasing criminals and putting herself at risk. So when the opportunity to invest in a failing Great Camp in the Adirondacks comes to her attention, she quickly jumps at the chance.
Filled with grief, widower Owen Murphy wants to run away from it all. Though he's worked hard to forge a future for himself, his guilt has kept him mired in the past. But all that changes when a headstrong, mysterious woman shows up at Owen's door. Together, as Lily and Owen restore the beauty of the Great Camp, he begins to finally see a future. But will learning about Lily's past destroy it all?
Amazon US | Amazon AU | Amazon UK | Goodreads
You can read the introduction to The Heart of an Agent below: