It's Friday, which means it's time to open the book nearest you and share the first line. Today I'm sharing from Hold the Light by April McGowan: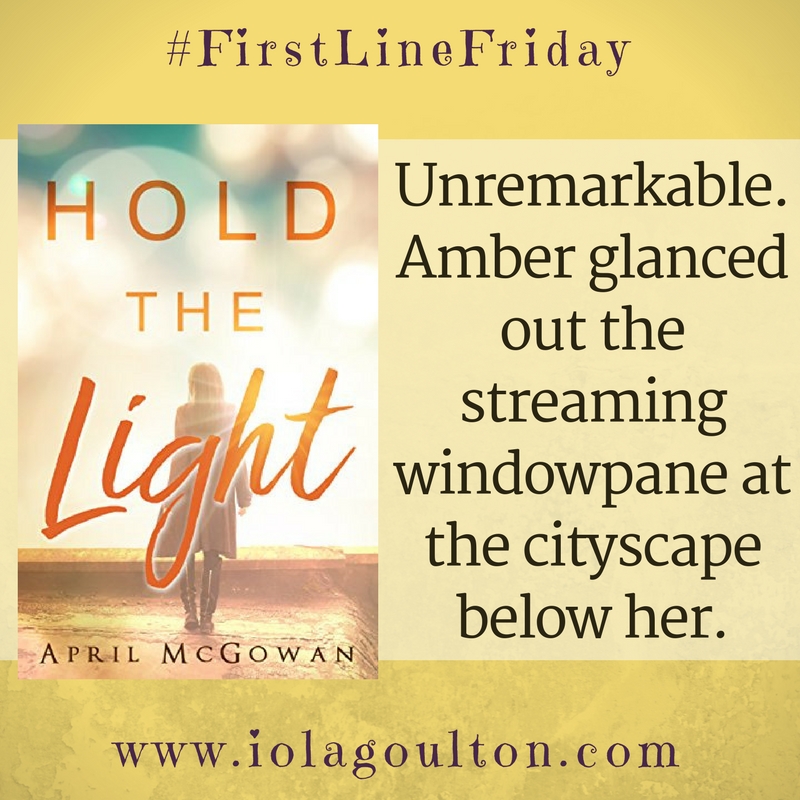 I've got an interview with April coming up soon, so keep watch!
About the Book
To an artist, the light is everything. So what is Amber supposed to do when facing blindness?
Amber spent her life adapting—first to being abandoned by her birth mother as a toddler, and then to the death of her adoptive father in her teen years. Now she's moved past all that, loving life as an independent woman: she has a job as an art instructor and the perfect apartment.
But when a routine eye appointment reveals she's losing her sight, life comes to a halt. Pressures come at her from all sides. Her mother, her boss, her boyfriend and her closest friend, Shannon, all have ideas about what's best for her.
Even after her blindness counselor, Ethan, befriends her and opens her eyes to new opportunities and the possibility of a deeper relationship, one haunting question remains: How could the God she loved all her life turn everything upside down—again?
Amazon US | Amazon UK | Amazon AU | Goodreads
You can check out what these lovely FirstLineFriday bloggers are sharing today:
Bookworm Mama | Singing Librarian Books | Faithfully Bookish
Radiant Light | Encouraging Words from the Tea Queen
All the Book Blog Names are Taken | Robin's Nest
Fiction Aficionado | Bibliophile Reviews | Kathleen Denly
Lauraine's Notes | With A Joyful Noise | A Baker's Perspective
Joy of Reading | C Jane Read | Moments Dipped in Ink
Molly's Cafinated Reads | Romances of the Cross |
Christian Fiction Girl | It's Storytime With Van Daniker
Sprinkles and Pink | Reading Is My SuperPower | Alicia G Ruggieri
If you would like to join FirstLineFriday, contact Carrie at at Reading Is My SuperPower, Rachel at Bookworm Mama, Sydney at Singing Librarian Books, or Beth at Faithfully Bookish. And check out my previous FirstLineFriday posts.
Share your first line in the comments, and happy reading!